Peace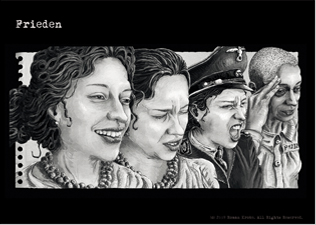 300,-€
Fine-Art "Giclée"-Print on canvas – stretched over a wooden frame with a depth of 2 cm
Illustration by Roman Kroke (2009)
Mesures: 40 cm x 30 cm
Customized title: language freely selectable – please specify the language of your choice during the order (in the preview: French)
Annotations to the illustration by Roman Kroke:
I created the illustration on the basis of the following citations from Etty's diary:
"True peace will come only when every individual finds peace within himself; when we have all vanquished and transformed our hatred for our fellow human beings of whatever race – even into love one day, although perhaps that is asking too much. It is, however, the only solution."
21 June 1942
"That broker turned up (…) and said: "We must pray for better things with all our hearts, as long as there still is hope. If we allow our hatred to turn us into savage beasts like them then there is no hope for anyone.""
7 July 1942
This illustration shows Etty in four entirely different moods, roles and situations. From left to right, (1.) relaxed and smiling, (2.) increasingly aggressive, (3.) in a Gestapo uniform and, finally, (4.) as an internee in an extermination camp.
With this illustration, I wanted to display one of Etty's fundamental convictions, namely that a precondition for peace is the realization that, potentially, each one of us is just as capable of being the butcher as of being the victim. Only by admitting this, would we be able to counteract the process by which the "dark side" within us is fed by the very act of pointing the finger at the misdeeds of others. This is in keeping with Etty's conviction that rigid categorisation of people into different groups leads to blurring this awareness. Labelling people as members or non-members of a group serves as an obstacle to understanding the universal potential of every human. Correspondingly, I make use of the Gestapo uniform, worn by Etty as a victim of the Holocaust, in order to indicate the possible coexistence of conflicting possibilities in one and the same person, which an overhasty categorisation according to role might render unthinkable. Etty applies herself to cultivating such unbiased judgments with the utmost vigilance. She describes a Jewish colleague in the transit camp at Westerbork as follows:
"He hates our persecutors with an undying hatred, presumably with good reason. But he himself is a bully. He would make a model concentration camp guard" (Hillesum, p. 210).