The thinking heart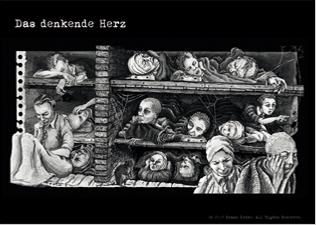 300,-€
Fine-Art "Giclée"-Print on canvas – stretched over a wooden frame with a depth of 2 cm
Illustration by Roman Kroke (2009)
Mesures: 40 cm x 30 cm
Customized title: language freely selectable – please specify the language of your choice during the order (in the preview: French)
Annotations to the illustration by Roman Kroke:
I created the illustration on the basis of the following citations from Etty's diary:
"Of course, it is our complete destruction they want! But let us bear it with grace. (…) [A] camp needs a poet, one who experiences life there, even there, as a bard and is able to sing about it. At night, as I lay in the camp on my plank bed, surrounded by women and girls gently snoring, dreaming aloud, quietly sobbing and tossing and turning, women and girls who often told me during the day, "We don't want to think, we don't want to feel, otherwise we are sure to go out of our minds," I was sometimes filled with an infinite tenderness, and lay awake for hours letting all the many, too many impressions of a much-too-long day wash over me (…)
And that is what I want to be again. The thinking heart of a whole concentration camp."
3 October 1942
When describing herself and her role in the camp, Etty uses the term "thinking heart". For me, this expression illustrates very well Etty's efforts to provide support for her fellow prisoners – on both an intellectual ("thinking") and an emotional level ("heart"). It highlights her strong feelings of responsibility. Repeatedly, Etty had refused offers of going into hiding – by which means she could very well have saved her own life. She also resigned her job in the administration of the Amsterdam Jewish Council after only two weeks. She called that place "hell". "Nothing can ever atone for the fact, of course, that one section of the Jewish population is helping to transport the majority out of the country. History will pass judgment in due course" (Hillesum, p. 196). At her own request, she was transferred by the Jewish Council to the transit camp at Westerbork to devote herself, as a social worker, to the needs of the people in transit. Jews who had been interned with Etty at Westerbork and survived report that, for many, she had been a light of hope in the midst of the unimaginable.
The lines "…that is what I want to be again. The thinking heart of a whole concentration camp" were written by Etty during her time in the transit camp at Westerbork, therefore before her deportation on 7 September 1943. In the illustration, I projected this wish into her future. In the centre of the illustration, Etty can be seen together with other women, detained in the extermination camp at Auschwitz-Birkenau. With her finger, which had once held the pen when writing the diary, Etty draws a spider's thread – referring once again to the central spider metaphor.
During my photo research, I was struck by the arbitrary way in which the heads of the internees had been shaved. Tufts of hair had remained here and there on their close-cropped heads. For me, this detail is a telling reflection of the disrespect and humiliation associated with this act of mass-processing.
Etty repeatedly compares the circumstances they are living in with those of rats. I also integrated the symbol of the rat into the illustrations "Travel Eastward" and "Freedom".